Christ Episcopal Church (Winnetka, IL)
Renovation of the Nave and undercroft, and complete reconstruction of the Chancel, of the 1903 William Otis-designed "Church on the Hill" on Sheridan Road in Winnetka, overlooking Lake Michigan.
Reconfiguration and expansion of the raised Chancel; repositioning the altar to bring the celebrant and choir closer to the congregation; construction and installation of moveable stepped platforms, choir seating and furniture to provide a flexible presentation space for intimate or large-group programs, presentations, and orchestral ensembles.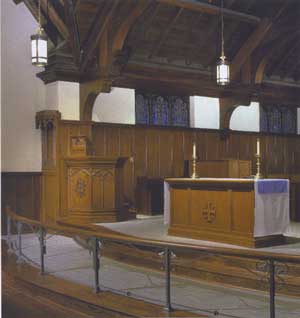 Reconstruction of the original, ornate pulpit and lectern stands, installation of a new organ console, electronic controls and blower system, and installation of new state-of-the-art lighting and sound systems.
The Christ Church Restoration Won Multiple Awards from the Winnetka Landmark Preservation Commission, including:


New Construction Award
Preservation Award for Rehabilitation and Restoration
Construction included a beautifully-designed and executed stone and timbered cloister in the gothic architectural style which serves as the interior connecting link from the church to the adjacent religious education/pastoral facility.
The Church undercroft was completely renovated to accommodate the choir office, rehearsal rooms,two nurseries and religious education classrooms.
Adaptive reuse of the adjacent, three-story Howard Van Doren Shaw-designed building into additional religious education classrooms and reception facility with adjoining terraced bluestone patios overlooking a meadow and stone-fenced churchyard.
Extensive interior and exterior renovation of the Oak Street Parish Center and Chapel, and installation of updated electrical, mechanical, accessibility and life/safety systems to accommodate existing church staff and pastoral functions, a counseling center and pre-school tenant.